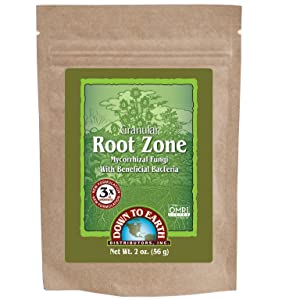 Qualifies for free shipping over $50


An important step in producing high yielding plants and building soil structure. 
Root Zone is a powerful blend of beneficial soil organisms that colonize plant roots and expand into the surrounding soil to greatly increase the absorption of nutrients. The result is bigger, healthier, happier plants with increased vigor, growth, yields, and pest and disease resistance. 
This professional-grade and ultra-concentrated microbial formula is has 16 species of mycorrhizal fungi, 2 species of Trichoderma, and 10 species of bacteria to improve structure and establish biological diversity in garden soils, potting mixes, and soilless media. Enhances seed germination rates, transplant survival, and improves root growth in young plants.
Best used for fruiting plants like tomatoes, peppers, eggplant, cucumber, squashes, etc. Does not work for Brassicas (cabbage family), beets, or leafy greens. 
2 oz bag treats up to 25 square feet if dug into the top 3" of soil or approximately 24 linear row feet of seeding 
OMRI listed for organic production