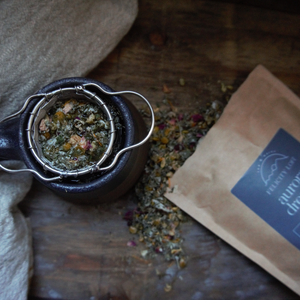 Qualifies for free shipping over $50

Felicity Loft is owned and operated by Megan Weston, a restauranteur and entrepreneur extraordinaire in Soldotna, Alaska.
We have traveled to many remote places in the world and no matter where we find ourselves, one thing stands true: we have been welcomed into strangers' homes and offered a beverage, most often a cup of hot tea. On the hardest and longest of days, this is the symbol of comfort, connection, and hospitality that leaves us in deep gratitude. 
If we have nothing else to offer you when you pop by our home, know that we will always have a hot cup of tea readily available. You are welcome here. 
We have swooped the last of Felicity Loft's Alaska Grown stock of Aurora Dreams. This restful herbal blend fills our mugs in the afternoons and evenings year-round in Alaska. Sweet chamomile and rose with hints of mint make us feel calm and cozy as we wind down our day. A classic blend and customer favorite.
2 oz bag
Made in Soldotna, Alaska
Ingredients: Chamomile, Raspberry Leaf, Peppermint, Rose, and Calendula