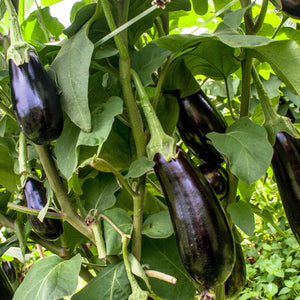 Solanum melongena 
25 seeds
Maturity: 70 days from transplant
A slender eggplant discovered in the Ukraine by Kent Whealy, co-founder of the Seed Savers Exchange, in 1993. 2' tall plants produce clusters of 4-8" long dark purple fruit. Buttery flavor and rarely bitter, Diamond is a true treat for the northern gardener. One of the most challenging plants for northern growers, Diamond gives us a fighting chance of enjoying fresh homegrown eggplant during an Alaskan summer. Grow under plastic, coddle regularly, enjoy immensely. 
Eggplant is a challenging crop in the north and requires warmth and extra care to reach maturity.