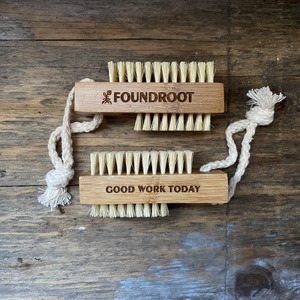 Qualifies for free shipping over $50

We put a little pat on the back on our nail brush because if you're using it, you've probably put in a hard day's work. Whether it is gardening, house projects, art, construction, mountain guiding, wrangling livestock, or just a good day playing outdoors, this little brush will get you "town" ready. Made from sustainable bamboo and sisal from agave plant fiber, this little brush is a staple in our home. Fibers will soften with use, hang to keep dry and extend the life of your brush.
Hand wash, store dry.
Custom engraved for Foundroot by small maker, Jason Qin, in China.