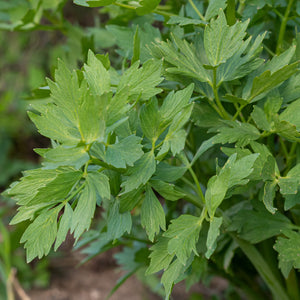 Levisticum officinalis
150 seeds
Maturity: 90 days
Potential Perennial

Grown by Friends of the Trees in Chimacum, Washington. Uncertified Organic, certification in progress. 
Originating from regions in Southern Europe, Lovage is a hardy herbaceous plant in the parsley family with flavor and leaves resembling celery but sweeter, with more depth of flavor. Lovage has a long history of cultivation in Europe where the leaves and seeds were used as a spice and the root was often prepared as a vegetable. Brought to the USA to use as both a food and as a medicinal, it now grows wild in New England, the Great Lakes region, Wyoming, Colorado, and New Mexico.
Dramatic plants can grow upwards of 5' tall with shiny green leaves and a graceful arching habit, making it an attractive addition to garden borders. Leaves and stalks can be used fresh or dried and is excellent added to vegetable and meat dishes, as well as soups and stews. It is said to stimulate digestion and have mild antiseptic properties. We use it heavily in preparing homemade soup stocks for the freezer and might be the reason why we don't often grow slow going, annual celery.  Start indoors and move out after frost, germination is slow and young plants need care until they are established.