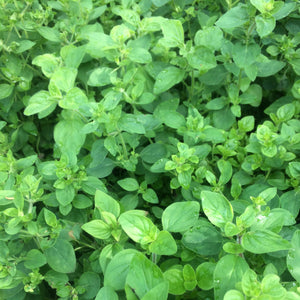 Origanum vulgare hirtum 
150 seeds
Maturity: 70 days from transplant
Potential perennial
Originating on ancient Greek mountainsides, this fragrant herb was named 'joy of the mountains' and has been one of the most important herbs used in Mediterranean cooking and medicinals ever since. Greek Oregano is a true wild oregano and grows as a bushy groundcover with bright deep purple-brown stems and broad dark green leaves. The bold, aromatic flavor is best harvested before flowers appear and holds exceptionally well when dried. Plants can perennialize as low as Zone 3 once established.