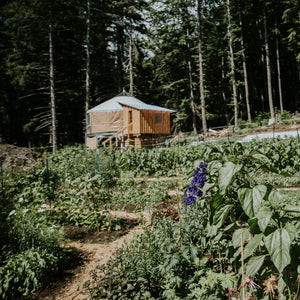 Here is the motherload. The Alaskan Homesteader Collection contains 60 packs of our seeds for serious subsistence gardeners. This is the perfect way to try a variety of the seeds that Foundroot has to offer and feed yourself homegrown food year round.  Enjoy planting with confidence by having us do the work of selecting the most tried and true of our northern proven open-pollinated seeds. Use this collection as part of your emergency survival kit, start your own seed saving collection, or, of course, grow them out annually to fill your cupboards. Start your homestead today!  

Recommended for growers with at least 1/4 acre of cut garden space and committed plans to garden for year-round food storage.  Even then, this collection will likely last you two or more seasons. Alternatively, this is an easy way to fill a school or community garden order or share with neighbors. 
This is a mixed collection that focuses on cold climate crops such as root vegetables, greens, brassicas, and a sampling of herbs and flowers along with several of our more challenging varieties for northern growing such as peppers, tomatoes, and squash. Selections based on availability. Please contact us if you have special requests and we will do our best to honor them.