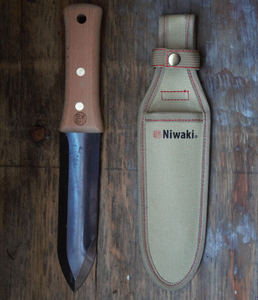 Niwaki is a Japenese/British company founded by husband and wife Jake and Keiko Hobson. They source, design, and manufacture very fine Japanese garden and woodworking tools, kitchen knives, and gear in traditional styles with modern updates. Their quality is unmatched and the tools are a revelation for western gardeners. 
Hori Hori knives are hands-down our favorite garden tool. Roughly translating to "dig dig", this is a classic and versatile Japanese gardening tool that we have relied on since we first learned to garden. They weed, they dig, they cut, they are endlessly useful. This is a traditional design without the serrated edge of our Hori Hori Ultimate and less weight. We use both as different tools for different jobs. This design is much lighter and both sides can be sharped. It is better for longer, repeated use like planting garlic cloves, shallower weeding, and all day transplanting but not as heavy duty. Don't stick it in compacted soil, dig hard roots, or use it where there are large rocks. Comes with a tough canvas sheath.

Dimensions
Blade: 169mm/6.7 inches
Overall: 281 x 75mm/11 x 3 inches

Weight
300g/10.6 oz

Hori hori made in Japan, sheath made in China
FROM THE MAKER
These are made from carbon steel - this means they will, through regular use, stain (and eventually rust) and gradually lose their edge. Caring for them involves three things…
1. Correct Use:
Japanese steel is hard and sharp, and can be more brittle than some people are used to - it will chip if abused
Do not cut wire, metal, stone, plastic or any other hard material (even bamboo fibres and some very hard woods, especially knots and burrs, can damage steel edges)
Do not twist or apply uneven pressure
Cut diagonally across branches (not straight across) so you cut along the fibres
Pay attention to our maximum cut dimensions, and don't overdo it (shears are not loppers)
Use the base of the blades, not the tips, for heavier cuts
2. Keeping Them Clean:
Remove leaf resin, rust and gunk with water
Dry, wipe over with Camellia oil and store in a dry place
3. Keeping Them Sharp:
New tools won't need sharpening for some time, but after a while you'll notice them gradually lose their edge. Use a Sharpening Stone for best results (#1000 grit is best for general sharpening).
Sharpen Secateurs every couple of weeks
Sharpen Shears and Topiary Clippers EVERY TIME you use them - the difference is amazing