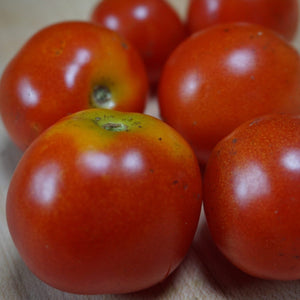 Solanum lycopersicum 
25 seeds 
Maturity: 60 days from transplant
Semi-determinate
Originally coming from Sweden in 1985, Glacier beats out other early ripening tomato varieties with not just speed but exceptional flavor. Determinate 30" plants have potato leaf foliage and produce 3-4" round orange-red fruit that will set in cooler temperatures and produce all season long. Glacier's sweet and tangy flavor is best for fresh eating but also makes nice sauces and salsas.
Tomatoes are a challenging crop in the north and require warmth and extra care to reach maturity.
FROM THE FARMERS
Glacier has definitely proved itself to be incredibly reliable in our trials. It is not as sweet as Stupice or as prolific as Whippersnapper but the plants can handle a serious amount of bad weather and neglect while still producing a solid crop. Tomatoes are tough to do in Alaska but with Glacier, you have a little more security and some tasty bounty to show for it.