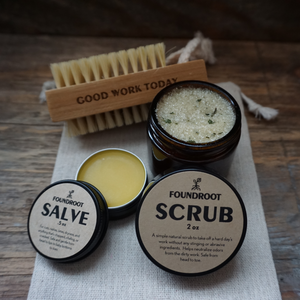 Small batch handmade goods by Foundroot using only organic and natural ingredients, plants grown in our gardens, or sustainably wildcrafted herbs we collected ourselves. Handmade with love in Haines, Alaska.
Know someone who has been working hard and needs to rest and restore their weary hands? This is a trial size set of our handmade salve and scrub with our very encouraging nail brush to end the day on a high note. This set includes: 
-.5 oz size of The Salve
-2 oz size of The Scrub
-One Bamboo and Sisal Nail Brush
Comes wrapped and ready in a 100% cotton drawstring bag.